Bodhi
is an
Ubuntu
-based distribution using the
Enlightenment
window manager. Bodhi is designed to be a minimalist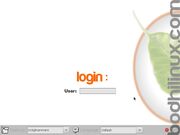 distribution with a bare minimum of installed applications and capable of running on older machines. It comes with
Synaptic Package Manager
to access the repository. This OS also accepts Ubuntu apps.
Internet Browsing
The default broswer that comes pre-installed is Midori. Other browers can be installed through the online app center. This browser also has an option to run via private mode.
Minimum System Requirements:
300mHz or better Proccessor
2.5GB of Hard drive Space
External Links
Ad blocker interference detected!
Wikia is a free-to-use site that makes money from advertising. We have a modified experience for viewers using ad blockers

Wikia is not accessible if you've made further modifications. Remove the custom ad blocker rule(s) and the page will load as expected.