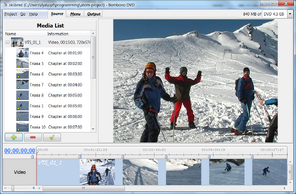 Bombono DVD is a Gtk-based program for making DVD-Video. Provides custom menu creation, authoring, reauthoring and optionally burning on DVD.

Basic Info
Bombono Comes in two version a free ware and a 30 day trial for purchase. The software was created in 2007 by Yugoslavian C++/Python programmer Ilya Muravj'ov
"with the idea to make it as tech-simple as it could be. And named it "The Atom Project"(or just "Atom") to emphasize the goal." from the Software Author
Once completed the name was changed to Bombono, an Esperanto word (derived from Spanish) that means Bonbon.
External Link
Ad blocker interference detected!
Wikia is a free-to-use site that makes money from advertising. We have a modified experience for viewers using ad blockers

Wikia is not accessible if you've made further modifications. Remove the custom ad blocker rule(s) and the page will load as expected.