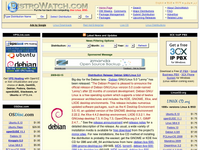 DistroWatch is a popular website which provides news, popularity rankings, and other general information about Linux distros as well as other free software/open-source Operating systems such as OpenSolaris and BSD. It now contains information on several hundred distributions. It was originally published on May 31, 2001, and is maintained by Ladislav Bodnar.
External link
Ad blocker interference detected!
Wikia is a free-to-use site that makes money from advertising. We have a modified experience for viewers using ad blockers

Wikia is not accessible if you've made further modifications. Remove the custom ad blocker rule(s) and the page will load as expected.