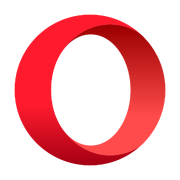 Opera is a cross-platform web browser and Internet suite which handles common internet-related tasks including visiting web sites, sending and receiving e-mail messages, managing contacts, chatting online and displaying Widgets. Opera's lightweight mobile web browser Opera Mini and most current versions of its desktop application are offered free of charge.
Opera is proprietary software developed by Opera Software based in Oslo, Norway. It runs on a variety of operating systems including many versions of Microsoft Windows, Mac OS X, Linux, FreeBSD and Solaris. It is also used in mobile phones, smartphones, Personal Digital Assistants, game consoles and interactive televisions. Technology from Opera is also licensed by other companies for use in such products as Adobe Creative Suite.

Opera uses the Blink rendering engine.
Links
Ad blocker interference detected!
Wikia is a free-to-use site that makes money from advertising. We have a modified experience for viewers using ad blockers

Wikia is not accessible if you've made further modifications. Remove the custom ad blocker rule(s) and the page will load as expected.