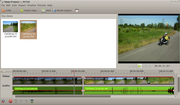 PiTiVi is a free software non-linear video editor developed by Collabora and contributors from the worldwide community. It is licensed under the terms of the GNU Lesser General Public License. PiTiVi is designed to be an intuitive video editor that integrates well in the GNOME desktop environment. It aims to be "a powerful, flexible video editor that can appeal to prosumers and professionals."
This article or parts of this article are based on the Wikipedia article PiTiVi licensed under the terms of the GNU Free Documentation License, version 1.2 or later. A list of the authors can be found here: [1]. You can help to improve the article.
Links
Ad blocker interference detected!
Wikia is a free-to-use site that makes money from advertising. We have a modified experience for viewers using ad blockers

Wikia is not accessible if you've made further modifications. Remove the custom ad blocker rule(s) and the page will load as expected.