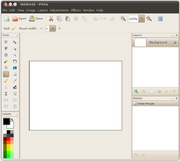 Pinta is a lightweight open-source, cross-platform bitmap image drawing and editing program inspired by Paint.NET, a similar image editing program which is limited to Microsoft Windows. Pinta aims to offer a free and open-source simpler alternative to GIMP on the GNOME desktop environment. It also aims to be portable to more operating systems than Paint.NET, which inspired its creation.
This article or parts of this article are based on the Wikipedia article Pinta_(software) licensed under the terms of the GNU Free Documentation License, version 1.2 or later. A list of the authors can be found here: [1]. You can help to improve the article.
External links
Ad blocker interference detected!
Wikia is a free-to-use site that makes money from advertising. We have a modified experience for viewers using ad blockers

Wikia is not accessible if you've made further modifications. Remove the custom ad blocker rule(s) and the page will load as expected.